Michelle Kyle - Pianist, Cellist, Ensembles
Solo Piano Music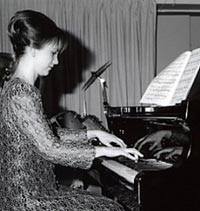 Michelle has been playing piano since age four, when she started Yamaha piano classes. Her musical studies experience was a "piano-cello-piano sandwich" as she began piano first, started university as a cello major for three years, then finished it as a piano major for three years. Her principal piano teachers were Garth Beckett in Waterloo and Tom Plaunt in Montreal.
Michelle completed a master of music degree in piano performance at McGill University, as well as a licentiate diploma (LTCL) and fellowship diploma (FTCL) in piano performance from Trinity College of Music in England. The fellowship is considered equivalent to a doctorate without dissertation.
Audio Recordings, Short Pieces
Audio Recordings, Classical Concerts
Classical music performances by pianist Michelle Kyle (née Hunchak) while studying piano performance in university. All rights reserved. Enjoy!
Prelude and Fugue, C# major, J.S. Bach, 3:26
Etude de Concert No. 2, "La Leggierezza," Franz Liszt, 4:49
Caprice No. 6, Eckhardt-Gramatté, 4:20
Etude, op. 2, no. 4, Prokofiev, 1:41
Etude, op. 4, no. 1, Szymanowski, 4:00
Première communion de la Vierge, Olivier Messiaen, 7:36
Noel, Olivier Messiaen, 4:18
Regard des Anges, Olivier Messiaen, 4:34
Sonata, C major, op. 102, no. 1, 1st movement, Beethoven, Mark Fraser, cellist, 8:11
Sonata, C major, op. 102, no. 1, 2nd movement, Beethoven, Mark Fraser, cellist, 7:29
Scattering Dark and Bright, David Chaitkin, Brian McCue, percussion, 17:24