When Do Lessons Take Place?
Lessons are scheduled at mutually convenient times. Time slots are available on certain weekday mornings, afternoons and evenings, or Saturday mornings. If you have certain times in mind, please enquire whether they would be possible.
Students may choose between regular weekly lessons or occasional lessons. Weekly lessons are usually on the same day at the same time in consecutive weeks.
Regular weekly lessons yield the best progress.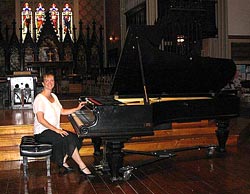 ARCHIVAL WEBSITE © 2011 Inter Alia Design