Joyful Voices
A Community Choir in North Perth
This is an archival website. Joyful Voices still exists but does not currently have a website.
Joyful Voices is an auditioned SATB community choir for people in or near North Perth, Ontario who love to sing, led by conductor Linda Street with pianist Michelle Kyle. Our repertoire includes secular and sacred music of different styles and cultures. We welcome singers of diverse backgrounds, and are open to repertoire suggestions from members. We aim to choose music that is fun to sing and enjoyable for our audience to hear.
Joy of Friendship Concert
Tickets are now available for our concert on Saturday, December 14, 2019 at 7:00 pm at Trinity United Church in Listowel. To obtain tickets, please contact a choir member or email us at joyfulvoicesnp@gmail.com.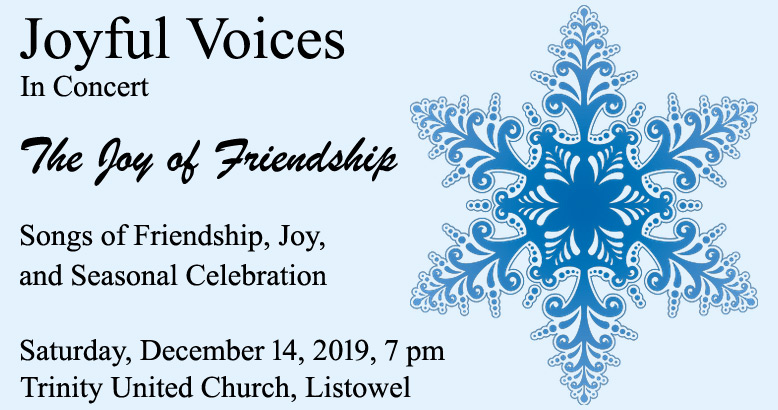 Donations
Donations to help our choir cover operating expenses are invited and much appreciated. We are a non-profit corporation, but not a registered charity, so unfortunately we cannot provide tax receipts. We are very grateful to the following donors for their support:
Margaret J. Kleinsmith
TarBush Dickey Giller & Associates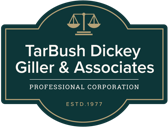 Updates
Dec. 2, 2019 - We will perform on December 11 at Caressant Care retirement home in Listowel, on the retirement side. This concert was made possible by a financial donation from Margaret J. Kleinsmith, who passed away on November 29 at Caressant Care.
Nov. 12, 2019 - After some coming and going in the first few weeks, our choir stabilized with 24 singers: 8 sopranos, 6 altos, 5 tenors, and 5 basses. Our Joy of Friendship concert on Saturday, December 14, 2019 at 7 pm will feature songs of friendship, joy, and seasonal celebration. Tickets at $15 per person are available soon from choir members. We will "pass the basket" for donations to support It Takes a Village in Listowel. We will also perform on December 2 at Maitland Terrace retirement home in Listowel.
Sept. 25, 2019 - Our first three rehearsals were Open Houses. We determined that we do have enough singers to move forward into our second season, with 17 continuing singers, 7 new singers, and a few more who join us next week. We are still accepting new members at the October 1 rehearsal.
July 15, 2019 - Congratulations to our new conductor who joins us for the 2019-20 season, Linda Street, from Clinton. Our members approved directors Todd Kasenberg, Michelle Kyle and Allyson Cardiff; officers Todd Kasenberg (President and Chair), Michelle Kyle (Secretary and Vice-Chair), Allyson Cardiff (Treasurer), and Monica Meier (Librarian); and our by-laws.
July 1, 2019 - Eight Joyful Voices singers, pianist Michelle Kyle and sound guy Sam Kasenberg provided music on wheels in the Atwood Canada Day Parade, with conductor Todd Kasenberg in the mayor's truck.
June 14, 2019 - We are moving! Next season, our rehearsals and concerts will be at Trinity United Church in Listowel. Our concert dates are Saturday, December 14, 2019 at 7:00 pm and Sunday, May 3, 2020 at 2:00 pm. Our founding conductor, Todd Kasenberg, is stepping down as conductor and staying on as chair of our board of directors. We are meeting with three conductor candidates on July 9, 2019.
May 16, 2019 - Our next organizational meeting is on June 4, 2019 at 6:30 to 8:00 pm. We are in the process of selecting directors and officers. There are vacant positions for two directors, Advertising officer and Fund-raising chair. If interested, please contact us.
Apr. 29, 2019 - Thank you to everyone who helped make our April 28 Joy of Spring concert possible, including our audience members. We are donating $1,000 from proceeds to the Canadian Mental Health Association, Huron Perth branch. We will hold two organizational meetings on May 7 and May 14 at 6:30 pm. People who are interested in joining our board, or participating in any other capacity, are invited to contact us.
Apr. 26, 2019 - Tickets for our April 28 concert will be available at the door. The church seats 150, choir members sold 91 tickets in advance, and 59 tickets remain, so people who would like to attend do not need to reserve tickets in advance, and can just show up.
Mar. 8, 2019 - We will do four free community performances in April. On Sunday, April 7, we will perform at the 11 am church service at St. Andrew's in Molesworth. We will perform three evening concerts at local retirement homes: April 10 at Huronlea Home for the Aged in Brussels, April 17 at Knollcrest Lodge in Milverton, and April 25 at Maitland Terrace in Listowel.
Feb. 4, 2019 - Our members have voted on seven potential recipients, and we have decided that our spring concert on April 28 will benefit the Canadian Mental Health Association, Huron Perth branch.
Jan. 1, 2019 - We've chosen the repertoire for our spring program, including works of Thomas Morley, Mozart, Schubert, Sally DeFord, Pete Seeger, Gordon Lightfoot, Oscar Peterson, the Beatles, Three Dog Night, Carly Simon, and Pharrell Williams. Our first two rehearsals on January 8 and 15 are open houses, and anyone interested can participate.
Dec. 10, 2018 - Our inaugural concert with 25 performers was well attended and appreciated. Many thanks to our choir members for the wonderful selection of cookies and other treats served at intermission, Mary Robinson for making the choir's scarves and decorating, Howard Mitchell for carpentry, Betty and Howard Mitchell for ticket handling, John Robinson and Jim Stewart for ushering, and all audience members for supporting our new choir. We donated $1,350 to the North Perth Community Hospice.
Dec. 8, 2018 - The day before our concert, 125 tickets are sold, and 25 will be available at the door.
Nov. 28, 2018 - Over 90 of 150 tickets for our December 9 concert are now sold. We welcome guest violinist Nora Pellerin from Guelph, who will perform with us in this concert.
Nov. 14, 2018 - With thanks for hosting our choir rehearsals and concerts, we will sing a few songs at St. Andrew's Presbyterian Church service on Sunday, December 2 at 11 am in Molesworth. Our December 9 concert will include a vocal trio featuring Meredith Vair, Darlene Galbraith, and Elizabeth Seary.
Oct. 24, 2018 - We have accepted an invitation from North Perth Community of Character to perform on Thursday, November 8 at the Listowel Agricultural Hall at 6:30-6:40 pm. This is our first public performance. Come out for spaghetti dinner at 5:30 and hear us sing!
Oct. 19, 2018 - Our members voted on eight potential recipients, and chose North Perth Community Hospice for our donation from proceeds of our December 9 concert. Tickets will be $20 per person, with half going toward choir expenses and half donated to the hospice. We will perform free concerts for residents of Knollcrest Lodge in Milverton on Nov. 28 and for residents of Livingstone Manor in Listowel on Dec. 6.
Oct. 12, 2018 - We've closed our intake of new members for the fall program. The choir has stabilized with 25 people - conductor, pianist, seven sopranos, seven altos, five tenors, and four basses, ranging in age from 17 to 73! If you would like to join in January when we open our intake for the spring program, please contact us.
Sept. 26, 2018 - Our third rehearsal was an open house, so people could try us out without having to audition first. Four auditioned afterwards, and we now have 26 singers. We are accepting new members of all voice types until October 2, and especially hope that two more basses will step forward!
Sept. 19, 2018 - We held our second rehearsal, and now have 22 singers. We have outgrown Choirs Ontario's Vocal Ensemble category for up to 20 singers, and are upgrading to Small Choir. We now have enough men to move forward as a mixed SATB choir. Joyful Voices is now incorporated as a federal non-profit corporation.
Sept. 12, 2018 - We held our first rehearsal yesterday, with conductor, pianist, and 15 singers. The choir sounds good already! We need basses and tenors, and welcome new members of all voice types until our fourth rehearsal on October 2. We are now a member of Choirs Ontario.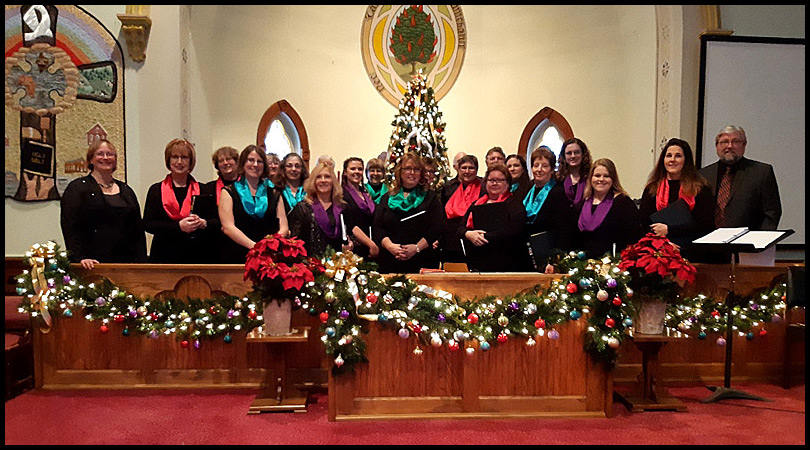 Please help us spread the word about the choir, share this website, and Like us on Facebook! Thanks!