Michelle Kyle - Pianist, Cellist, Ensembles
Music for Wedding Ceremonies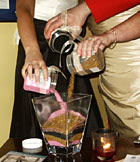 Family sand ceremony
Michelle Kyle is very familiar with wedding music repertoire, procedure and venues, with over 20 years of experience organizing and performing live music for wedding ceremonies throughout and beyond Ontario.
Ceremony music includes a quarter-hour of music before the ceremony as guests arrive, and music selections for the Processional, Signing of the Register, and Recessional. More music may be played if desired, for example, between readings or for a candle or sand ceremony. If your wedding begins late, the pre-ceremony music will continue until you are ready.
Singers
If you have a friend who you would like to sing for your ceremony, Michelle or her ensemble can accompany your singer for one to three songs. We recommend that your singer be experienced enough to coordinate well with instrumental accompaniment in one rehearsal. Your singer will need to provide the voice-piano sheet music in his or her key to Michelle. If you are hiring any instruments other than piano, Michelle will write a custom arrangement for the instruments you have selected to accompany the singer. If you would like a singer but don't have one, Michelle can provide one for you.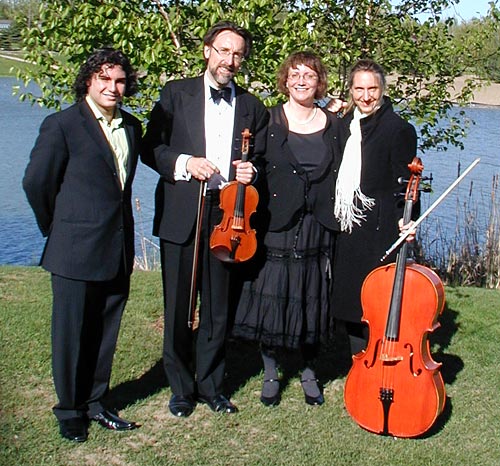 Singer Chris Dallo, Norman Hathaway, Michelle Kyle and Mary-Katherine Finch
Custom Arrangements
If you would like certain music for your ceremony that is not in our repertoire, you may provide the piano sheet music (preferred) or an MP3 recording, which Michelle will use to write a custom arrangement for the instruments you have selected. Not all music works for two melodic instruments (violin and cello), as a third instrument may be needed to fill in the harmonies. Almost all music sounds good when arranged for string trio (two violins and cello).
Ceremony Music Repertoire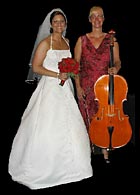 Classical music is traditional for wedding ceremonies, as it has enduring beauty, but other kinds of music also sound elegant when played by strings. Your relationship is unique, your musical tastes are unique, and your ceremony music can be music of any style that has meaning for you. For example, on request, Michelle has played as processional music, Elvis Presley's Love Me Tender, Aerosmith's I don't wanna miss a thing and Ennio Morricone's Gabriel's Oboe, and as recessional music, Vince Guaraldi's Linus and Lucy, Journey's Don't Stop Believing, and the Beatles' When I'm Sixty-Four. For your wedding ceremony, Michelle is happy to play your favourite songs, or to assist you in choosing music that creates the atmosphere you envision.
Processional Music
Music for the processional (walking in) is generally calm, stately music, at a good walking pace. You may have one processional for everyone, or different music for the bride. If you choose different music for the bride, ensure musicians are located where we can see the bride at the back when everyone is standing, to know when to change the music. Processional music ends when the procession reaches the front, so you will not hear the whole piece. Depending on the length of the walk and the size of your wedding party, you may only hear the first few bars. If you prefer, you may choose to stand at the front and listen to the entire piece.
Signing of the Register Music
Music for signing of the register (marriage documents) is usually gentle and lyrical. This is a good place in the ceremony for a featured piece of music that you particularly like, or a song performed by a singer with instrumental accompaniment. While you and your witnesses sign your documents, your guests can enjoy hearing the entire piece.
Recessional Music
Music for the recessional (walking out) follows the announcement of the newly married couple, and is upbeat and joyful in celebration. The entire piece is played, followed by one more joyful piece of music while guests are leaving.