Michelle Kyle - Pianist, Cellist, Ensembles
Wedding Music Price List
Music Fees for Special Events
Solo music fees are the same for piano, cello, or both, for example, cello for the wedding ceremony and piano for cocktails. Maximum playing time is five hours. Minimum playing time within the no travel fee area is one hour. Minimum hours of engagement outside this area depend on the travel distance. After the first hour, musicians take a short break each hour. We do not charge taxes, so the total amount is the music fee plus the travel fee, if any. We have always publicly posted our prices and have not raised our prices for over 10 years. Discounts are not available. Prices are the same for all clients. For consecutive hours of music at the same location, the music fee is:
| | | | |
| --- | --- | --- | --- |
| Hours | Solo | Duo | Trio |
| 1 | $350 | $500 | $650 |
| 1.5 | $400 | $620 | $840 |
| 2 | $450 | $720 | $990 |
| 2.5 | $500 | $820 | $1,140 |
| 3 | $550 | $920 | $1,290 |
| 3.5 | $600 | $1,020 | $1,440 |
| 4 | $650 | $1,120 | $1,590 |
| 4.5 | $700 | $1,220 | $1,740 |
| 5 | $750 | $1,320 | $1,890 |
Hours
"Hours" indicated above are consecutive hours at the same location. If a wedding ceremony and reception, or two related events on one day, are non-consecutive and/or are held at two different locations, they are either treated as two different engagements or the clock runs continuously. The best price depends on the distance between your event locations and the length of the time gap between events. Outside and inside a venue, or different rooms within the same venue, are considered the same location.
For wedding ceremonies, the minimum booking is one hour, which includes a quarter hour of music before the ceremony as guests arrive, more music as needed if the ceremony begins late, and processional, signing of the register and recessional music for a 20 to 30 minute ceremony. For longer ceremonies such as Catholic ceremonies with mass, the 1.5 hour fee applies.
Travel Fee
A travel fee may apply, which is based on mileage. Michelle will travel anywhere in Canada to perform, for the appropriate travel fee. Ensembles may be available to travel, depending on timing and location. Beyond the no travel fee area, the minimum hours of engagement depend on the travel distance. Please provide the postal code of your venue to obtain a quote.
Vocal Soloist
For a wedding ceremony, you may hire a singer to perform one to three songs with Michelle or her ensemble. If Michelle engages the vocal soloist, the singer's fee is $300 for one or two songs, and $350 for three songs. If the client wishes to engage a singer, this is possible and it should be discussed with Michelle well in advance. Michelle will ensure the singer and musicians are all working with the same version of the music, and all musicians including the singer will rehearse together prior to the event.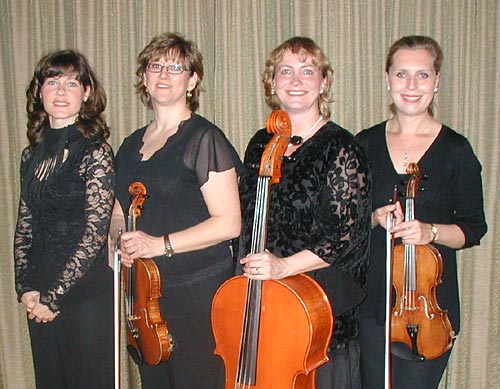 Soprano Maria Thorburn, Ines Pagliari, Michelle Kyle and Tamara Hrycak
Keyboard and Amplifier
For piano engagements at a venue that has no piano, Michelle can provide a keyboard and amplifier for an equipment transport fee of $100. The keyboard is a Roland RD-300SX digital stage piano, full size with 88 weighted keys, 128-voice polyphonic performance, and expanded soundsets. The amplifier is a Roland KC-150 four channel stereo mixing keyboard amplifier with a 65 watt, 12 inch speaker, auxiliary input (RCA) and XLR microphone input.

Custom Arrangements
If you request music that is not usually played on the instruments chosen, Michelle can write a custom arrangement for you, working from piano sheet music and/or a recording to write out music that can be played on the instruments chosen. Custom arrangements are usually not required for piano because piano sheet music is generally available, but they may be required for solo cello or ensembles. One custom arrangement is included. The price of additional custom arrangements varies with the complexity of the music and the chosen instrumentation. The approximate price may be $50 per piece for solo cello or violin-piano duo, $75 for violin-cello duo or piano trio, and $100 for string trio. If more than five arrangements are requested well in advance, a lower rate may be arranged.