Michelle Kyle - Pianist, Cellist, Ensembles
Solo Cello Music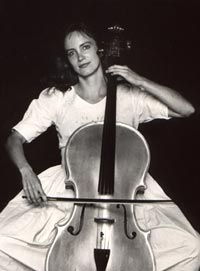 Michelle began playing cello at age 11. At age 17, she left home to study cello performance at Brandon University, and then at Wilfrid Laurier University. To raise money for tuition while attending Osgoode Hall Law School, she busked in the Toronto subway. People who heard her solo cello music asked her to play for their weddings, and she has played for weddings ever since.
Most music for voice or a melodic instrument, such as flute or violin, can be played on the cello. As the cello is the instrument that sounds most similar to the human voice, vocal music sounds lovely on the cello. The instrument's resonant tone adds a warm ambience to the environment.
Michelle now plays a fine Canadian cello from the workshop of Jean-Benoît Stensland and Therese Girard in Montreal. Therefore, she no longer plays cello for outdoor events. Some musicians keep a second cheap instrument that they use for outdoor events in variable weather conditions, so if your event is outdoors, please look further. As the principal cellist of the Kitchener-Waterloo Community Orchestra, Michelle plays solos within the orchestral repertoire at its public concerts.
Audio Recordings